About
A Few Words About Us
In 1969 Piraeus, Greece
Alkis Koulouris, Manolis Tsachilidis and Foteini Panagiotaki establish
AL-MA
A customs brokerage company focusing on clearing ships spares in transit in order to accomodate the ever-increasing demands of the thriving shipping industry.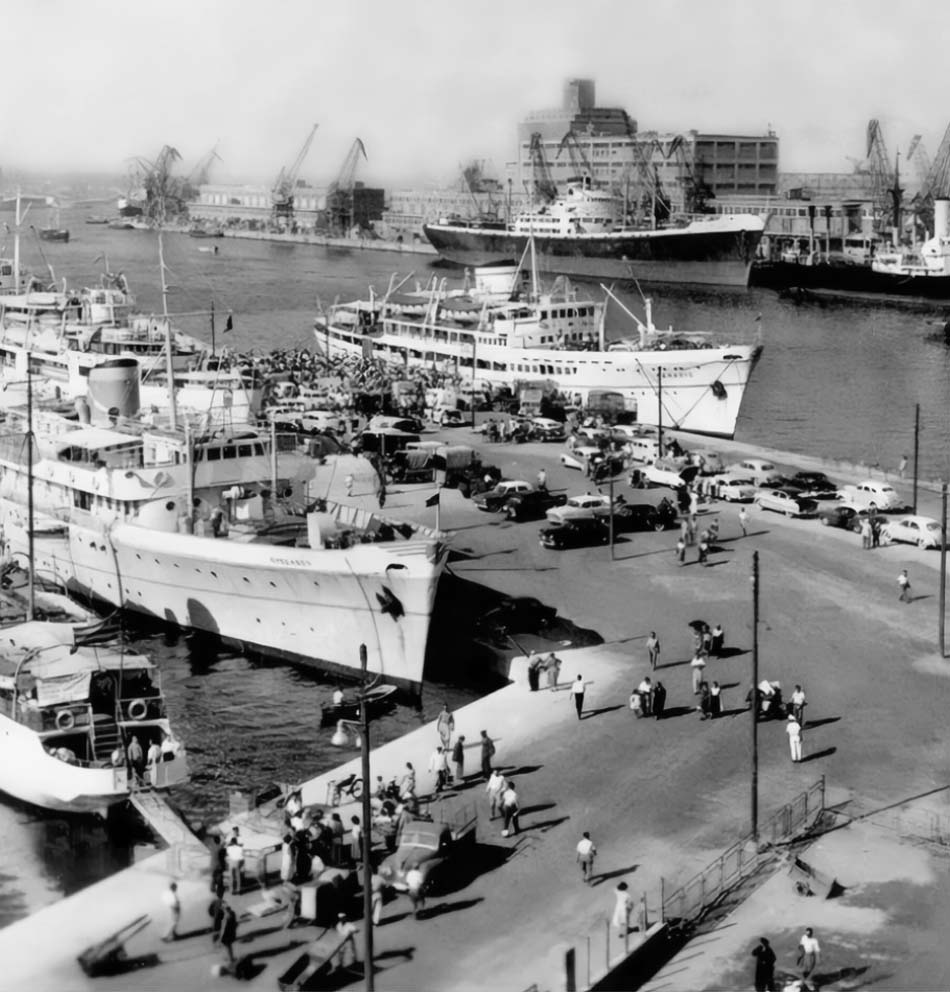 AL-MA is a business of customs brokers and agents specializing in provisioning sea faring vessels with spares and stores
Covering the whole supply chain from filling customer purchase orders and up to the onboard delivery of goods.
Our core strength lies in our trustworthiness

With unparalled experience and our excellent track record, we strive to provide personal attention to all our clients and their commodities

Throughout the years

We have built an extensive network of partners and associates in all major ports of the world and our clients include some of the largest shipping companies and agencies globally
Today, Mrs Foteini Panagiotaki-Koulouri continues the company's legacy accompanied by Ioannis Tsachilidis and Evangelos Koulouris, sons of the late founders
Services
Our Specialties
We have highly customized our processes to create stress-free transactions
Customs declarations
on average per year
Tonnes of spares forwarded
on average per year
Client Ships
on current account
Hard Workers including
5 Senior Customs Brokers
F.A.Q
Frequently Asked Questions
What are the main requirements for customs clearance?

For customs transactions of total commodity value under 1000 euro individuals and companies need only to have a Greek VAT number and an authorization.

For commodity values over 1000 euro, companies and individuals need to have a valid EORI number and an electronic authorization for customs through ICISnet.

In all cases, cargo must be accompanied by an Invoice declaring the nature, quantity and value of goods and a bill of transport (bill of lading, airwaybill, courier voucher, etc.)

What is the EORI number?

The EORI number, or Economic Operator Registration Identification, is a unique number usually derived from the 2-letter issuing country iso code followed by the VAT number. It allows commercial transactions with customs as well as non-commercial electronic transactions.

What is the usual lead time for clearance and delivery?

As long as all documents needed for clearance are in order, clearance can start immediately on arrival. For 95% of all imports we aim for clearance within 24H from arrival. We are able to clear goods within same day should the situation require it. Minimum time needed for clearance is about 1-2H after goods have entered the customs area.

What are the usual costs associated with Imports?

Once goods have arrived at customs, some of the costs to clear them include: Agency fees (carrier or their agent), Terminal handling charges, Warehousing, Customs Duties and the customs brokerage fee.

What are the usual costs associated with Exports?

The usual costs associated with exports include: Inland transportation (from cargo pickup to carrier or port of exit), Rate of freight, terminal handling, documentation fees, brokerage fee.

How can you calculate shipping costs for exports?

Will need to know pick-up location and port of exit (to determine indland transportation cost), Cargo volume, weight, value and ultimate destination (to determine Freight Rate, insurance, terminal handling, document and brokerage fees).
For any more questions please do not hesitate to contact us!
Contact
Contact Us
Feel free to call or email us with your request
Our Address
2, Loudovikou Street, Piraeus 185 31, Greece.